The perfect fall weekend doesn't require a trip across the bridge
By Susan Able, photography by Jennifer Chase | Sponsored by visitannapolis.org
Looking for that perfect fall weekend trip exploring winding country roads with views of the Bay? Try taking a trip to a quieter side of Maryland and discover the many joys of puttering about "South County," no Bridge traffic required. Whether you want to dine bayside and noodle around small towns, do a deep dive into local history, or try your hand at something active, all of this and more is yours within in an hour or so from metropolitan DC.
The region we're talking about is south of Annapolis down to Deale on the Chesapeake Bay and westward to Lothian. This area shares a similar coastal topography with the Eastern Shore, and has been used for farmland and fishing since Colonial times. Happily, large-scale suburban development hasn't arrived here; much of the land is still used for agriculture, and many of the small towns are much as they were 50 years ago or more.
We've proposed some different itineraries, so pick and choose, or throw caution to the wind and do it all—there's plenty to enjoy!
The Nostalgia Seeker
What is so special about this neck of the woods is that, though proximate to DC and Baltimore, this corner of MD is tucked away from beach traffic and development, keeping an inviting yesteryear charm. For a true flavor of old Maryland, spend time meandering through the small South County towns that line the West River.
Galesville was founded by Quakers in 1651. Though its population has never been over 500, its proximity to the bay has made it a place of commerce for hundreds of years. Once home to watermen and sailors, the town is now largely recreational, but its charm is well-preserved. The small Galesville Heritage Museum is open only on Sundays from 1–4 pm (or by appointment), and has an interesting collection of pre-Colonial to present-say artifacts. This hamlet also has an important place in African American heritage: you can still see Hot Sox Field, home of the Galesville Hot Sox, a semi-pro African American baseball team.
The village of Shady Side is another step back in time with an off-the-beaten-path feel. A visit to the Captain Avery Museum is recommended; only the grounds are open (the museum is being renovated), but it is worth stopping by to consider the life of an oysterman and waterman in the late 1800s. The museum will be open during the Annual Oyster Festival held this year at the museum on Sunday, October 20, 12:30–5pm. We highly recommend this event, and to say it is rollicking is to do it justice. Bushels and bushels of MD oysters are shucked, plus lots of food, drinks and adult beverages, live music, craft vendors, interpretative displays, and activities for children. Leashed dogs are welcome. For two other small-town flashbacks, have breakfast at the Driftwood Diner (open through lunch), or dine with the locals at the Brick House Restaurant, a great spot on a chilly day with the fireplace usually stoked and welcoming.
Finally, head southward to Deale, where you'll be welcomed wherever you land. Your visit to this village will not be complete without a stop at The Boathouse. Located in a Deale boatyard, you'll order your drink from an actual boat. It's a fun crowd, with great drinks and a food truck, open on weekends through the fall. Need some cookies for the car ride? Around the corner is South County Café, a terrific bakery and sandwich shop, with all you need to satisfy a sweet tooth during your journey.
Deale has several antique stores and consignment shops; be forewarned that you might not leave empty-handed! Second Wind Consignments and A Vintage Deale are located next to each other in a mini-strip mall. While you are shopping, if you have a sudden need for a California roll, tucked in between the shops and through a delightful potted garden is Umai Sushi Shop, with Chef Paul Han behind the sushi counter.
The Active Naturalist
Only 30 miles from Washington, DC, the Smithsonian Environmental Research Center (SERC) covers 2,650 acres in Edgewater. Trails connect forests to shorefront with an interpretative center, a great stop for families. SERC scientists study all types of issues that affect our local ecology like water quality, fishing stock and invasive species, land use, and climate change. The staff encourage visits: there are public tours every other Saturday throughout November, and family canoe trips.
SERC has a boat launch and dock where kayaks, canoes, paddleboards, and other nonmotorized boats can be launched. There are also picnic facilities and bathrooms, and three hiking trails (about 1.5 miles each) that take you on themed journeys throughout the campus.
Paddleboarders and kayakers should know there are dozens of spots to put in your own board for scenic bay paddles. On weekends, Chesapeake Paddle Sports in Deale, farther south, teaches paddle boarding and offers guided tours.
Birders—fledgling or experienced—can find a fall treasure trove of migratory bird watching in South County's preserves, including SERC, to go birding, kayaking, and trail walking. On the western side of the county, just south of the MD Route 4 bridge, is Jug Bay Wetlands Sanctuary. This nature preserve, managed by Anne Arundel County, has 1,700 acres of open water, tidal freshwater marshes, forests, and fields that run along the Patuxent River. According to the MD Ornithological Society's Birding Guide, Jug Bay's marsh "harbors an extensive stand of wild rice, providing an important stop over ground for migratory birds in the fall."
The Family Traveler
Nothing says "fall day trip" like a full-on, full-speed-ahead festival designed for families. Family-owned Greenstreet Gardens' "mother ship" store in Lothian has a great reputation as an annual fall crowd-pleaser. Featuring hay rides, corn mazes, jumping pillows, and underground slides, the festival offers food, drink, and opportunities to feed animals. The festival runs on weekends from September 21 through October 27, 10:30am–5pm.
For the junior archeologist or families interested in history, a must-visit is Historic London Town & Gardens, a perfect oasis on the South River. In the late 1600s, this 23-acre park was a thriving tobacco port and ferry landing; its strategic location made it an important transportation hub up and down the Bay, but was gone by the 19th century, Annapolis having eclipsed it in commercial importance. The William Brown House, a posh Colonial tavern, remains for tours amid a few wooden Colonial-era structures, but the big highlight is the display of artifacts found on-site and maintained on the Lower Level of the Visitor's Center. An added bonus are gardens and walking paths, with stunning views of South River.
Now hungry and ready for more family fun? The nearby Old Stein Inn is a popular locally owned restaurant, a last vestige of MD's German heritage. It's perfect for groups, with an expansive covered outdoor patio with heaters. The menu features German classics (think brats, schnitzels, and German beers for adults) and features strolling accordion players and other music on weekends beginning at 5pm.
Seekers of Orange Crushes and All Things Crabby
Orange Crushes and crabs are a rock-solid tradition of this state. If you love Maryland's native cocktail and crustacean, then you've found the mother lode in South County.
We recommend starting your own Orange Crush & Crab trail in the village of Deale. Confession: we sampled our way through multiple Orange Crushes—it was research, right? Locals argue over which is their favorite haunt on Deale Road, but sitting side-by-side overlooking the water are two solid choices: Dockside Restaurant & Sports Bar has indoor dining and a large covered outdoor bar area; Happy Harbor, known for its music scene and the locus of many Deale fishing charters, also has indoor and outdoor dining. Both offer simple fare and good honest takes on MD seafood classics. You have a very good chance of running across a $5 Orange Crush at happy hour. Skipper's Pier at the end of Drum Point Road might have the most scenic perch, and while it is "relaxed," it is slightly more upscale as a dining option.
Your next stop for Orange Crushing and crabbing takes you riverside to little Galesville, where two dining establishments overlook the Bay. We recommend Pirate's Cove, a sprawling place with indoor and outdoor bayside dining, a tiki bar, live music, a genial staff, and—even better—your dogs can join you at the outside tables. There is an entire menu of Crushes for the Crush-inclined, but we went full crab here and can recommend the blue crab balls, the blue crab dip, and the crab toasts. It's busy, but there is plenty of parking.
If you want to have a classic crab-picking experience that hits a high note for food and iconic experiences, we recommend Mike's, one of the best-known crab houses on this side of the county. It's a favorite—expect to wait or be seated at a large picnic table with your new best friends. The friendly staff will patiently explain the best crab-picking techniques around, and you must try their Maryland Crab Soup, which is tops, and our new favorite, the Grapefruit Crush.
The Locavore Foodie
The farms you'll drive by in southern Anne Arundel County are idyllic, and while the transition from tobacco growing to agritourism is still a work in progress, you'll pass some fruit and veg stands, often open only on weekends. But look for this to change: Anne Arundel Economic Development Corporation's Agricultural Marketing Director Lisa Barge explained, "Anne Arundel County is working hard so our farms can diversify and thrive. Recent legislation will allow more agritourism opportunities in the county, and as a result, we are excited to be working with new farm businesses such as future on-farm breweries, stores and new agritourism venues. Browse through our Arundel Grown Guide to see what Anne Arundel County Agriculture has to offer now."
In the meantime, we suggest that you pack a cooler for a visit to En-Tice-Ment farm in Harwood, run by fourth- and fifth-generation Anne Arundel County farmers, the Tice Family. The Tice children are 4-H champions, raising and showing cows, pigs, chickens, and lambs at the county fair. The meat from En-Tice-Ment is raised naturally, without GMOs, steroids, or additives, and you can visit their farm store to load up on farm-raised meat available in small and large quantities. If you are a fan of scrapple, now would be your time. (Author's note: I am a frequent customer of the Tice family. I can attest that their meat, bacon, and sausages are superb.)
Ketch 22, a new bay- and field-to-table restaurant with a true nautical feel, recently opened in North Beach at the farthest point south in the county. Chef and co-owner Bobby Jones, a chef with a following from his first restaurant, Point Crab House and Grill, has brought his talents to Ketch 22, with a total commitment to serving food sourced seasonally and locally from MD, VA, and Delaware.
Barbecue lovers? South County has your back for pulled pork, brisket and other meats off the smoker. Two places serve up great versions: For carryout (think fall picnic) try West River BBQ; for sit-down dining at a bar, table, or patio, Chad's has options that will please everyone and do not miss the honey jalapeño wings!
If you love the idea of spending an afternoon tasting local Maryland wine from Anne Arundel county, we have suggestions.
Great Frogs owners and winemakers, Nathaniel and Andrea O'Shea, produce single varietals and blends that have been winning awards against competition in California. They have tastings on Saturdays by reservation at their rustic tasting room on the vineyard, with possible open space for passersby. Great Frog's Wine Club members have the pleasure of live music events almost every Friday.
Want to take in a piece of Maryland history along with your wine? Make a reservation for aseated tasting at The Vineyard at Dodon in Davidsonville, Thursday through Sunday afternoons. Polly Pittman, the vineyard's co-owner, is the eighth-generation steward of her family's farm which was founded in 1725 as a 5,000 acre tobacco plantaiton. The vineyard, with 16 acres under grape, produces over a dozen varietals.
Thanksgiving Farm Winery, also located on an historic farm in Harwood, hosts tastings of its small batch through November 25th, most Saturdays and Sundays from 1 pm to 5 pm. Owners and winemakers, Doug and Maureen Heimbuch, make European-style wines, including a Meritage of blend of estate-grown varietals.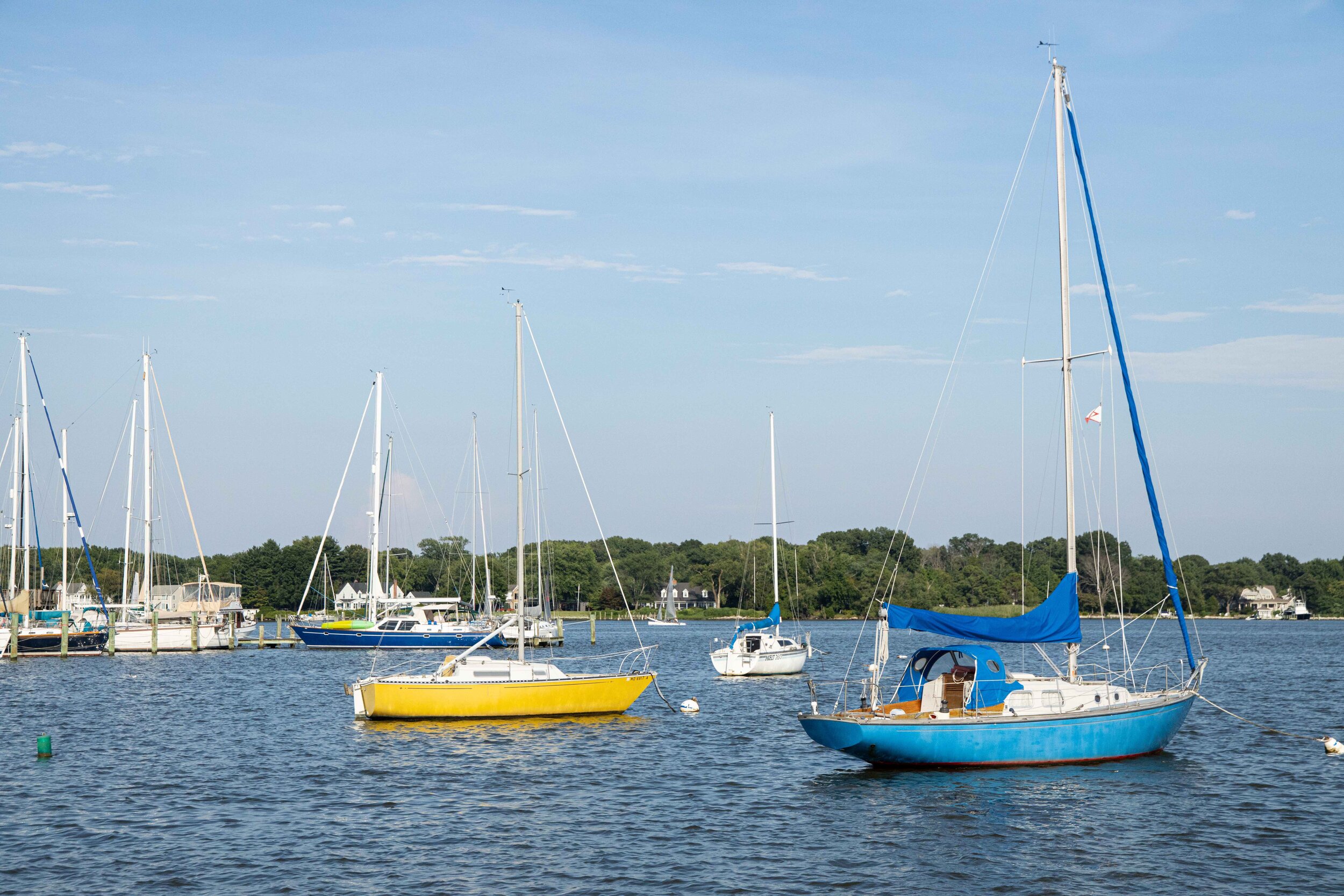 For more information and travel ideas!