By Erin Williams, Photographs by David Santori
Before Chef Jerome Grant was named as head of the kitchen of one of the world's premier history museums, before said kitchen was nominated for a James Beard Award for Best New Restaurant, before he was rubbing elbows with Questlove and Carla Hall and spending his weekends doing food demonstrations on the "Today" show, he was just a regular kid growing up in Fort Washington, MD.
An Air Force brat who spent his childhood moving from place to place with his mother and father, he found a sense of stability working in the kitchen alongside his mom. "My mother was always in food service, whether it was fast food or dining services for the military," he says. "I was always around her and I enjoyed being around food."
When he started Occidental High School in 1996, his parents decided he was old enough to earn his own spending money. His mom gave him his first job, working at The Sports Page, a bar and grill on the campus of Andrews Air Force Base. Before he knew it, he found the community he didn't know he had been missing.
"I enjoyed making pizzas, I enjoyed flipping burgers. I liked hanging with the older guys, hearing their stories. I was able to get extra wisdom from these guys," he remembers. When the time came for college decisions, Grant, who had been spending his school days as a science and technology student, decided to veer off that path and go to culinary school at the Pennsylvania Culinary Institute in Pittsburgh.
He wanted to be a pastry chef, but his father intervened and forced him to do the entire education sequence, including studying restaurant and hospitality management—"which turned out to be one of the best things that my father made me do," he remembers. He balanced classes and working part time, spending his nights working with his roommate as a fish butcher for Wholey's, one of the oldest seafood and meats purveyors in Pittsburgh.
"I took pride in coming in and butchering 100 pounds of salmon a night and tuna for the guys who picked it up for their sushi bars. I enjoyed being able to walk around Pittsburgh knowing that more than likely I touched a lot of people's fish in the meantime," he says of the experience. Once he graduated, he began working for a corporate catering company, where he met chef Jake Sgueo. They became friends, and when Jake left to become food and beverage director for his father-in-law's beach resort in St. Croix, "he was always joking, 'When I get down there, if you want to come and work with me I'll try and set something up,'" Grant remembers. "And then literally a week later he called me and said 'You ready to move to St. Croix?'"
As easy as the decision should have been for a young, unburdened 20-year-old kid, Grant found himself waffling. "The furthest I'd ever been from my parents was Pittsburgh, and that was a $30 bus ride back home. To move 1,666 miles to St. Croix was scary to me. It wasn't a bus trip, it wasn't a car ride—you gotta fly home."
But he did it, initially agreeing to only stay for six months to help get things started. He was only making $7.50 an hour and worked seven days a week. "But mind you, I lived in a villa that was on the beach. I literally would wake up in the morning, walk to work. I had that resort life, which was really awesome, and at the same time I was able to understand myself as a growing adult and how things worked," he says.
He ended up in a salaried position as full-time chef for two years, learning everything from how to run a kitchen to how ordering food affected costs. "I enjoyed it—I truly enjoyed it. I learned a lot of lessons there. I understood the blood, sweat and tears side of it. You have to put in more than you'll ever get out—and be OK with it."
After two more years on the island working as the head chef and partner for Mix Lounge, Grant ended up returning home to DC and was hired to help open Urbana at the Hotel Palomar in 2006. Working with the Kimpton hotel group provided the kind of teachable moments that gave Grant the confidence to move on a few years later, this time to the restaurant and lounge space known as IndeBleu in Chinatown, working under chef Michael Hartzer. He ended up being laid off a few year later, after the owners decided to shift IndeBleu into more of a nightclub.
Rather than jump quickly into his next opportunity, Grant decided to take a step back, re-evaluate and be a stay-at-home dad to his son, a toddler at the time. "It was amazing— we'd watch 'Blue's Clues' together every morning, I'd feed him his breakfast, feed him his lunch. It was great," he says.
"With everything I'd gone through in the past few years I needed that time to recharge and relax because I truly didn't know where to go from there." He mulled his options while picking up opportunities at FedEx Forum during the football season, and made his full-time re-entry as the executive sous chef at Rosa Mexicano's National Harbor location.
"I walked in and thought 'Aw, man, it's career suicide—I might as well work for Applebee's," he says of his initial impression working for the high-end chain. But after studying the original recipes and the massive prep team, his mind-set changed. "It really opened my eyes: You could serve mass amounts of people and still have great-quality food." But the 14-hour days and not having time to see his son led Grant to seek work that would allow more balance.
Luckily, he didn't have to search long. While browsing Craigslist for opportunities, he came across a somewhat vague sous chef listing that promised, simply, a good quality of life. Grant answered and was asked to meet at the National Museum of the American Indian.
"I walked into the museum's cafeteria and thought 'Great, salad bars, pizza stations, mashed potatoes ... I just thought it was the wrong thing for me," he says of his initial impression of the Mitsitam Native Foods Café. But after sitting down for an interview with Head Chef Richard Hetzler, his impression changed.
"The museum was about showing native cultures that most people don't know too much about, and Mitsitam used food as a way to reinforce that education," he says of the original recipes he and his team created for the café menu. "We focused on cooking techniques, the seasonality of the ingredients and the regional food differences between native people—it had so much academic study behind it. And being at the museum—it gave me a great quality of life, and I was actually cooking. We were truly cooking."
He and his team received a RAMMY award (presented by the Restaurant Association Metropolitan Washington, RAMW) for Best New Restaurant in 2012. His work did not go unnoticed, and led to his promotion as the chef-manager at Smithsonian Castle.
"Me being the chef-manager, I had to do everything: controlling the money, the whole nine yards. I had to learn very fast," he says of running the public café as well as staff café. "I was able to really learn all the facets of how a business truly runs." In 2014, Hetzler left and Grant was asked to return to the Mitsitam Café as the executive chef.
"But I didn't want to go—because I wanted to be here."
"Here," of course, being the Smithsonian's National Museum of African American History and Culture. The museum hadn't even broken ground yet, but Grant was clear about his next steps.
"I would talk to my boss and say 'That's where I want to be. For me, it's a part of my story, I grew up down the street. I want to be at the new, biggest and brightest thing on the Mall. I want to showcase my culture," he says. "I'd never done 'our' food. I'd worked at French restaurants, Italian restaurants, island-style restaurants. So for me it was very important to come back here and do this—and it completed my story."
His boss's advice? "Take the American Indian Museum to the next level. Start building up yourself as a chef in the city and help innovate that museum to the best that you can, and I guarantee you'll be the guy that's in there."
He took that advice and began elevating the food experience, crafting signature seasonal menus based on the style of preservation that American Indians would have utilized. "It wasn't about taking all these different items that nobody's ever heard of and just forcing it on [visitors], it's actually about introducing it to them in a very comfortable way. We want you to come in to our tables, have the food, and talk about it—talk about the history behind it and how this coincides with your experience of the museum. And we ended up doing that very successfully." The media took note, and Grant's name was seen in every publication from Bon Appetit to Southwest Airlines Magazine.
And now Grant is "home" at Sweet Home Café. The space is paneled with photos from the 20th century, from sit-ins at lunch counters to author James Baldwin dining with singer-activist Nina Simone. Families of all ages come through the food line, which offers selections from around the country: from New Orleans and the rest of the South, the North and the West. The menu has everything from catfish po' boys to fried chicken to rainbow trout, red velvet cake and sweet potato pie. As social media posts have shown with photos of pleased faces and empty plates, the long lines are worth the wait.
Grant can't wait to continue innovating in the kitchen. His team will continue to seasonally change the menus as well as conduct more research into African American foodways and work with cooks across the country.
"A lot of people associate African American food with soul food. African American food is American food. Whether we were slaves cooking for owners, or whether we were indentured servants in various homes and taking care of families, we were the ones cooking these meals. We were always here. To me we were so resilient as a people it was, like, 'This is ours.'"
For the chef himself, he just wants to continue to make his family proud.
"My dad, my mother and my girlfriend are my biggest fans. My dad brags about me—which is scary," Grant says. "It's great for what it's done for my family, and for me those are the most important things—that my family is extremely happy with who I've become. To be able to pay them back with doing something for our culture and also representing our family well, that's all that matters. And being here—it's the icing on the cake."
"I don't know my end result, but I know that I'm home here. This is the highlight of my life."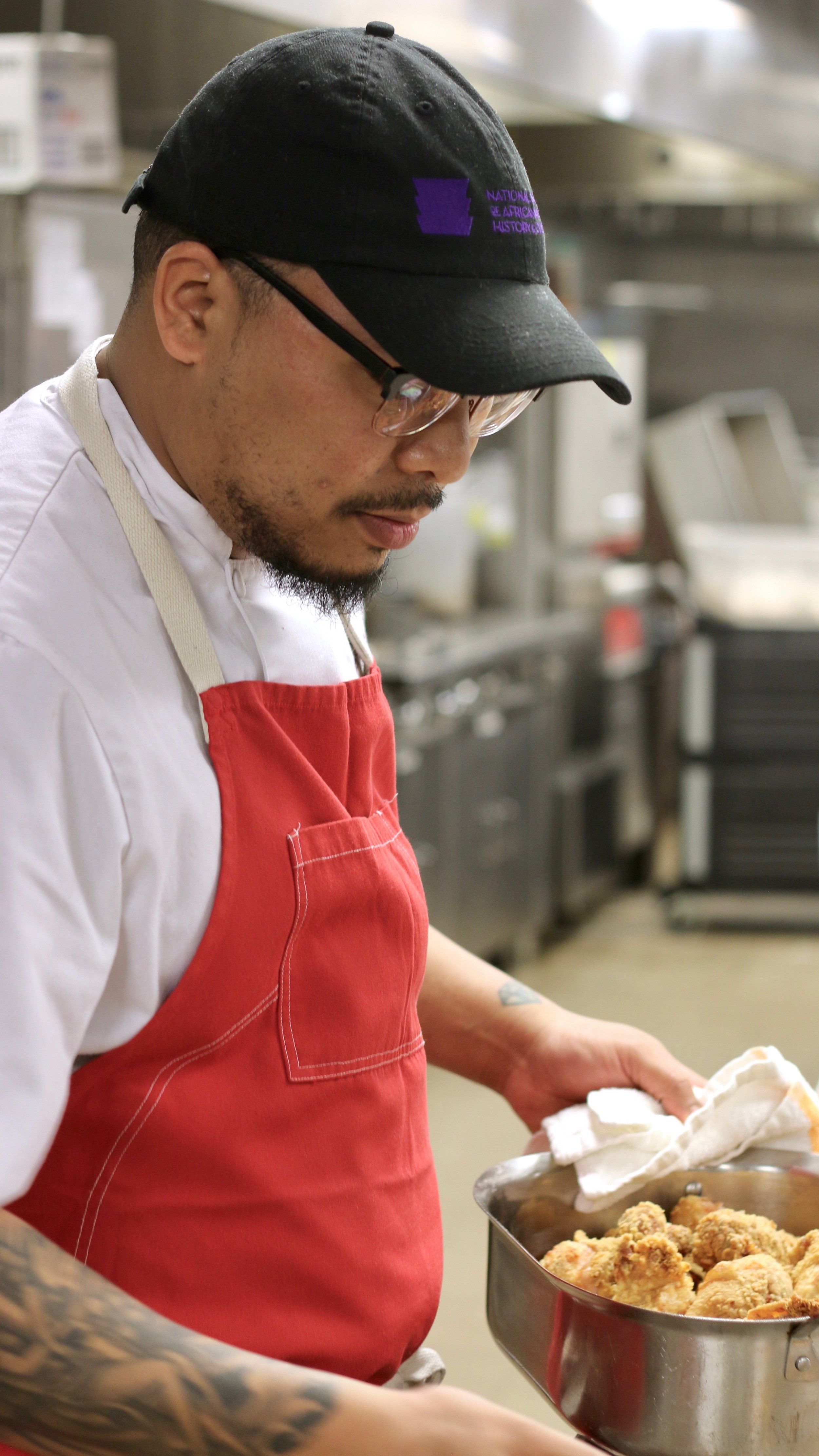 What legacy do you want to leave at Sweet Home Café?
That we showcased African American food as "American food." Each taste is rich in history.
Writer Erin Williams did a quick Q&A with Chef Grant.
The food you most look forward to eating in summer?
Crabs and oysters. My family and I are big on summer gatherings
What is your favorite summer ingredient to cook with?
Eastern Shore Corn, it's super sweet.
Your favorite comfort food?
Ramen, the love I have for it is eternal.
Your best breakfast ever?
Huevos rancheros!! ALL-TIME FAVE!
What's your favorite music to cook by?
https://www.chefsfeed.com/stories/598 has just some of the songs I enjoy the most.
Your son's favorite things to eat with his dad?
Sugar Shack doughnuts, pepperoni pizza, grilled corn.
What legacy do you want to leave at Sweet Home Café?
That we showcased African American food as "American food." Each taste is rich in history. This is the food that took care of communities, it impacted lives but, more importantly, it fed your souls.
From our Summer 2017 issue.